That curtain is about to go up.
Jittery teens hold hands backstage waiting to give the performance of their lives. "That curtain is about to go up and something in you is about to let go. This will set you FREE," says Sarah Crowell, Artistic Director of the Destiny Arts Center in Oakland, California.
About the Film
FREE: The Power of Performance is an award-winning documentary film following five teenagers in Oakland, CA who use dance and spoken word to transcend the violence, broken families and poverty in their lives.

Each year, a diverse group of teens audition for one of twenty spots in the Destiny Arts Youth Performance Company, where they will spend months working together to create an emotionally charged performance based on their lives. Led by artistic director Sarah Crowell, Destiny Arts provides a safe haven for the teens to share their stories, to build community, and to express themselves through performance art.
 
Central to the film are the stories of the five teens. Jamany, who once thought guns, violence, and drugs were the way to fit in, barely escapes juvenile hall. Nee Nee's mother has breast cancer and struggles to pay the bills. Alaysia is trying to cope with a childhood rape. Omar, who has been through 11 foster homes, is faced with a devastating diagnosis. Tilly has little outlet for the pain of a difficult relationship with her girlfriend and resorts to cutting.

Yet as they unite beyond differences to create their production, the teens find voice and community, revealing how collaborative art can be a foundation for personal strength, liberation, and hope for the future.
 
"Free? What does it mean to me?
Embracing life. Letting the world see who you are and loving yourself first."
- Omar
"I'm alone a lot. I have friends at school but you can't always trust them. You can at Destiny."
-Tilly
"You gotta learn to forgive, because if you always have anger in your heart and stuff, you'll just live a bitter life."
-Alaysia
"...I like to push myself to do things that really girls shouldn't do and can't do. I want to be the girl who does it."
-Nee Nee
"...I don't know where I would be without dancing. I wouldn't know myself, I wouldn't know my breaking point. I wouldn't know how to calm down."
-Jamany
Destiny Arts Center is an afterschool program based in Oakland, California with a mission to inspire and ignite social change through the arts. For 30 years, the nonprofit has taught dance, hip hop, and martial arts to over 3,500 young people every year.

Their performance company selects a diverse group of teens each year who create dynamic productions in collaboration with professional artists, performing to over 20,000 audience members every year. The company received top honors with the 2017 National Arts Youth and Humanities Program Award and is a National Endowment of the Arts grantee.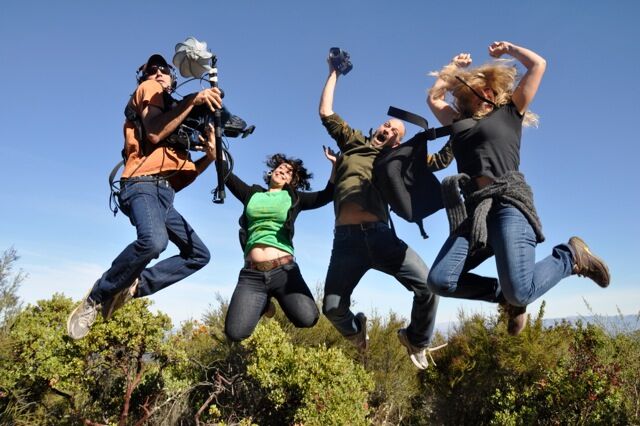 Suzanne LaFetra and David Collier felt in their bones that Destiny Arts was special from the very first time they attended a performance. It was a shocking reminder of what it means to be a teen in Oakland, California. Yet, they were impressed and captivated by the students' ability to herald their personal struggles for a public audience. In a place where 1/3 of all teenagers drop out of high school, how is Destiny Arts able to successfully guide these teens through this tumultuous period? Natives of the San Francisco Bay Area, raising four teenagers of their own, the two paired up in this labor of love to tell the story of five remarkable youth and their journey of becoming F R E E.
David Collier
Director/Producer/Director of Photography
David Collier is an award-winning documentary filmmaker, and the principal and founder of Studio B Films. He received an Academy Award nomination in 1993 for his feature-length documentary For Better or for Worse. Studio B Films is a video production company in Berkeley, specializing in commercial work and documentary-based storytelling.
Suzanne LaFetra
Director/Producer
Suzanne LaFetra is a freelance writer, journalist and filmmaker. She is the Executive Producer of the documentary, She Wants to be a Matador (2009). She has long believed in the power of film as a medium for social change. Being the mom/stepmom to four adolescents has made her particularly keen on the youth development work portrayed in F R E E. This is her directorial debut.
"After making F R E E, we understand the immense power in the simple act of sharing a story. Whether by listening or by telling our own, walls come down, bridges of empathy are built, and real change can happen."
-Suzanne Lafetra & David Collier
JENNIFER CHINLUND
EDITOR
Jennifer Chinlund is an award-winning editor. She has edited dozens of documentary films including Children of the Amazon, The Self Made Man, Discovering Dominga, Baby It's You, and Complaints of a Dutiful Daughter, which won an Emmy and was nominated for an Academy Award.
TODD BOEKELHEIDE
COMPOSER
Todd Boekelheide is an award-winning sound engineer and composer. He has scored more than 60 films, including Spin, Regret to Inform, Inside Bellevue, The Future of Food, Hearts of Darkness: A Filmmaker's Apocalypse and Nina Takes a Lover. He has earned both Emmy and Academy awards for his work.
SARA NEEDHAM
CO-PRODUCER/
DISTRIBUTION MANAGER
Sara Needham is an Emmy-nominated journalist and award-winning documentary filmmaker who aims to tell stories that bring about collective change while opening hearts and minds. Her work has explored a variety of topics including genetically modified food, gun violence & the colorful life story of a Gregorian friar.